2016-17 Film Series
Film Screening: REMEMBER
Thursday, October 6
7pm, Schaefer Center for the Performing Arts
The Center for Judaic, Holocaust and Peace Studies is partnering with ASU's Office of Arts & Cultural Programs in screening the Atom Egoyan's new feature film Remember not the ASU campus. The screening will be followed by a panel of Holocaust and Jewish Studies scholars that discusses the film.
Remember tells the story of Zev Guttman (Academy award-winner Christopher Plummer), a 90-year-old struggling with memory loss who is living out his final years in a serene retirement home. A week following the death of his beloved wife Ruth, he suddenly gets a mysterious package from his close friend Max (Academy award-winner Martin Landau), containing a stack of money and a letter detailing a shocking plan. Both Zev and Max were at Auschwitz, and the same sadistic guard was responsible for the death of both their families–a guard who, immediately after the war, escaped Germany and has been living in the U.S. ever since under an assumed identity. Max is wheelchair-bound but in full command of his mental faculties; with his guidance, Zev will embark on a cross-continental road-trip to bring justice once and for all to the man who destroyed both their lives.
Academy Award-nominated director Atom Egoyan creates a thrillingly fast-paced revenge story that, in a highly original and deeply intimate way, deals with the aftermath of one of the most deplorable and significant events in recent history. With an incredible lead performance from Christopher Plummer as the frail but unstoppable Zev, Remember manages to keep audiences on the edge of their seats while giving them something to think about long after the film is over.
Prof. Rosemary Horowitz, a specialist in Jewish literature and literacy, Prof. emeritus Rennie Brantz, a German historian and Holocaust scholar, and Assistant Professor Chris Patti, a Communications scholar who has worked on Holocaust survivor storytelling will discuss the film as part of the post-screening panel. Prof. Thomas Pegelow Kaplan, a Holocaust scholar and the Director of the Center for Judaic, Holocaust and Peace Studies, will moderate the discussion.
"Christopher Plummer puts on a master class in acting and his director, Atom Egoyan, delivers one in audience manipulation in a psychological thriller featuring the most blood-boiling of plot devices." – The New York Times
Canada; Germany; Rated R; Directed by Atom Egoyan (2015); 94 Minutes |
For tickets and more information
theschaefercenter.org or call 828.262.4046
Tickets: $10 adults $5 students
Bagels Over Berlin
A new documentary celebrating Jewish veterans of the Army Air Corps in WWII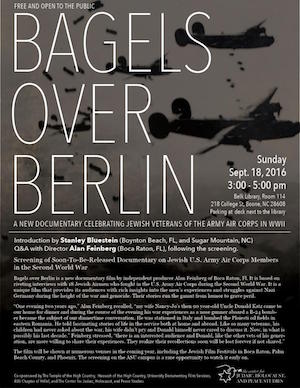 Screening of Soon-To-Be-Released Documentary on Jewish U.S. Army Air Corps Members in the Second World War
Bagels over Berlin is a new documentary film by independent producer Alan Feinberg of Boca Raton, Fl. It is based on riveting interviews with 18 Jewish Airmen who fought in the U.S. Army Air Corps during the Second World War. It is a unique film that provides its audiences with rich insights into the men's experiences and struggles against Nazi Germany during the height of the war and genocide. Their stories run the gamut from humor to grave peril.