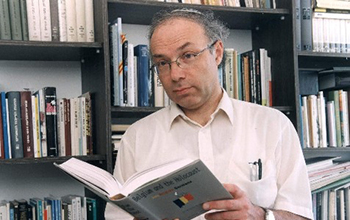 In late October, ASU and the Center welcomed Professor Dan Michman (Yad Vashem and Bar-Ilan University, Israel) to campus. During his almost week-long stay, Professor Michman gave a lecture on "Holocaust Research Since 1990: Contemporary Contexts and Their Impact on the Comprehension of the Event" to a large audience that filled the library's main lecture hall.
APP TV has partnered with the Center to record and broadcast the lecture that rightfully impressed many audience members. APP TV will now air the lecture in North Carolina. The broadcasts will start at 5:00 pm on December 11, 12 and 13. Everyone in the Boone, NC, area can easily tune in to the APP TV station and watch the lecture. If you are further away, there are also ways to watch the program on the internet at https://www.watchapptv.com/. A slightly modified version of the program is also available the Center website at https://holocaust.appstate.edu/resources/videos.
Professor Michman is the head of the International Institute for Holocaust Research and incumbent of the John Najmann Chair of Holocaust Studies at Yad Vashem, the World Holocaust Remembrance Center in Jerusalem. He is also a Professor Emeritus of Modern Jewish History at the Israel and Golda Koschitzky Department of Jewish History and Contemporary Jewry and the chair of the Arnold and Leona Finkler Institute of Holocaust Research and incumbent of the Abe and Edita Spiegel Family Chair of Holocaust Research at Bar-Ilan University, Ramat-Gan, Israel. Professor Michman has been at the forefront of Holocaust research in Israel, North America, and Europe for decades. He holds a Ph.D. from Hebrew University and started his career as a lecturer in Jewish History and Biblical Hebrew at the Dutch-Jewish [Ashkenazi Orthodox] Rabbinical Seminary in Amsterdam in the early 1970s. Born to Holocaust survivors in Holland in 1947, Michman and his family came to Israel in 1957, when his father, Joseph Melkman/Michman was appointed to head Yad Vashem as its general director. Professor Michman has written 14 books, including Pour une Historiographie de la Shoah: Conceptualisations, terminologie, définitions, problèmes fondamentaux (2001), The Emergence of Jewish Ghettos during the Holocaust (2011), and "Angst vor den Ostjuden." Die Entstehung der Ghettos während des Holocaust (2011). He edited 15 more volumes (plus five more under contract) such as Belgium and the Holocaust: Germans, Belgians, Jews (1998) and Hitler, Ha-Shoa veha-hevra ha-germanit (2007) and authored numerous articles in a variety of languages on the history of Dutch and Belgian Jewry, Israeli society and on various aspects of the Shoah, ranging from historiography, ghettos, religious life and Jewish leadership to problems of Jewish refugees, migration, resistance and survivor communities.
Professor Michman's visit was organized by the Center for Judaic, Holocaust and Peace Studies and made possible by donations from Center members and supporters. It was co-sponsored by a range of institutions, including the Department of History, German Program, Department of Philosophy and Religion, ASU's Hillel chapter, the Temple of the High Country, Academic Affairs and the Office of International Education and Development.