Events
Next International ASU Summer Symposium on Film and Photography During and After the Holocaust To Be Held as a Hybrid Program in July 2022: Registration to Open on January 10

Appalachian State University's Center for Judaic, Holocaust, and Peace Studies will hold the 20th Annual Martin and Doris Rosen Summer Symposiumfrom July 23-28, 2022. Our 20th Anniversary Symposium will focus on Film and Photography During and After the Holocaust. The language of instruction is English. The symposium will take place in the form of a hybrid event. Pandemic conditions permitting, we will hold in-person programs on the ASU campus. In addition, we will include ZOOM programs and also make it possible for teacher-participants to join virtually and remotely.
The hybrid format will give us maximum flexibility to accommodate teacher-participants and the public. It will also enable us to connect to teachers, researchers and audiences in the High Country, US, Europe, Israel and elsewhere and Memorials and Centers abroad. Participating teachers will have the opportunity to learn from and converse with, among others, Prof Michael Berenbaum (American Jewish University), Prof. Ofer Ashkenazi (Hebrew University, Jerusalem), Dr. Miriam Klein Kassenoff (University of Miami), Sheryl Ochayon (Yad Vashem) and other accomplished Holocaust educators and scholars, also from the Sonderkommando photograph taken by a Jewish prisoner, crematorium V, August 1944
Mandel Center for Advanced Holocaust Studies at the United States Holocaust Memorial Museum, Washington, D.C. Dr. Racelle Weiman (Florida) will serve as the symposium's co-director.
This year's symposium will highlight the role of film and photography during and after the Holocaust and include specific sessions on "Nazi Propaganda and the Uses and Abuses of Film," "Photography and Nazi Propaganda," "The Nazi-Established Ghettos and Concentration Camps in Eastern Europe: Resistance and the Use of Photography in the Face of Extermination," "Indonesian Lullaby: Depicting Survival in the Netherlands in Film" and more.
For more information about the symposium, registration, and available scholarships, please click here or contact the Center at 828.262.2311 or holocaust@appstate.edu.
---
Center Organizes Memorial Conference for Prof. Rosemary Horowitz z''l (August 1, 2022)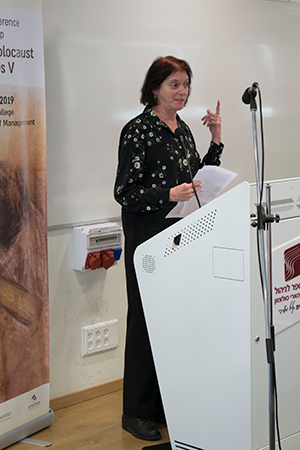 In cooperation with Appalachian State's Department of English and College of Arts and Sciences, the Center for Judaic, Holocaust, and Peace Studies will host a Memorial Conference for its late director Prof. Rosemary Horowitz z''l on Monday, August 1, 2022. The all-day hybrid conference on Appalachian's Boone campus will bring together collaborators, friends, and students of Dr. Horowitz z''l from Appalachian State, the country and around the world to present work in areas of studies and academic fields to which she has made so many invaluable contributions. Prof. Eliyana R. Adler (Pennsylvania State University), an internationally-acclaimed historian of the modern Jewish experience in Eastern Europe, will be delivering the keynote lecture on Yizker books. Prof. Rosemary Horowitz z''l, the daughter of Holocaust survivors, began her remarkable academic career with a much-noted dissertation on Yizker books. She dedicated it "To the Six Million," a dedication that powerfully captured one of the central commitments of her life and career.
The event is open to the public (in-person and virtually). For more information, contact the Center at 001.828.262.2311 or holocaust@appstate.edu.