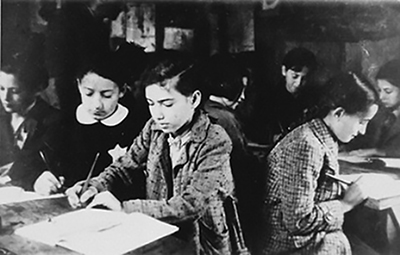 International Summer Symposium on Education During and After the Holocaust (July 2019)

The 18th Annual Martin and Doris Rosen Summer Symposium on "Remembering the Holocaust" will be held from July 20-25, 2019, on the campus of Appalachian State University. This year's symposium explores the multifold connections between the Holocaust and education, tracing how the Nazi regime relied on schooling to secure support for its participatory dictatorship and racist policies and how persecuted Jews across German-controlled Europe enlisted education as a form of spiritual resistance and Amidah, even in the ghettos and camps.

The week-long symposium will bring internationally and nationally acclaimed scholars, authors and educators to Boone. The event's faculty and speakers include Liz Elsby from the International School for Holocaust Studies, Yad Vashem, Israel, Christina Chavarria from the William Levine Family Institute for Holocaust Education, United States Holocaust Memorial Museum, Washington, DC, Kathy Kacer, a renowned Toronto-based author of Holocaust literature for children, and Susan Warsinger, nee Susan Hilsenrath, who, as the daughter of a Jewish family in Bad Kreuznach, attended public and soon a private Jewish school in Nazi Germany throughout the 1930s. For more information, contact the Center at 828.262.2311, email holocaust@appstate.edu or see our symposium website (https://holocaust.appstate.edu/teachers).