Upcoming Events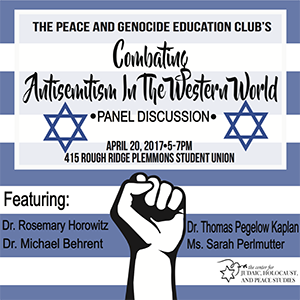 Thursday, April 20
5 - 7pm
PSU's 416 Rough Ridge, Room 415
Organized by the Peace and Genocide Education Club, a panel of ASU students and faculty affiliated with the Center for Judaic Holocaust, and Peace Studies will discuss anti-Semitism in its past and present forms. The panel will take place on Thursday, April 20, from 5:00 until 7:00 pm at PSU's 416 Rough Ridge, Room 415. Open to the public and no tickets required.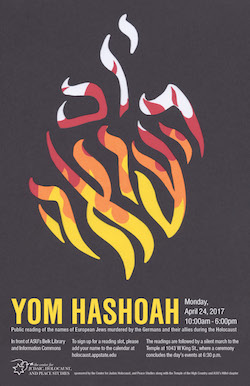 On Monday, April 24, Yom HaShoah (Holocaust Memorial Day), the Center for Judaic Holocaust, and Peace Studies along with the Temple of the High Country and ASU's Hillel chapter will organize a public reading of the names of European Jews murdered by the Germans and their allies during the Holocaust. The day-long readings are scheduled to begin at 10:00 am on the ASU campus.
To sign up for a reading spot, please follow this link and add your name to the calendar.
ASU students in JHP 3154, who carried out research at archives, memorials and documentation centers in Germany and Poland, including the Auschwitz-Birkenau State Museum, will present their findings. The program will open with a screening of "Eva and Moe," a short film with rare footage of interwar Polish-Jewish family life in the Polish countryside co-produced by ASU Professor Beth Davison. The session will begin at the Beacon Heights Room 417 (4th floor) at Plemmons Student Union on Thursday, April 27, at 7:30 pm.

Recent Events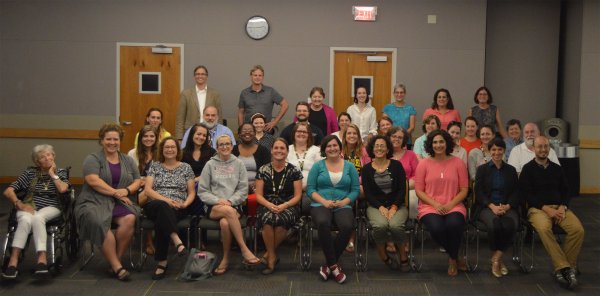 See photos from the 15th Annual 2016 Martin & Doris Rosen Holocaust Summer Symposium, July 23-28, 2016