Recent Events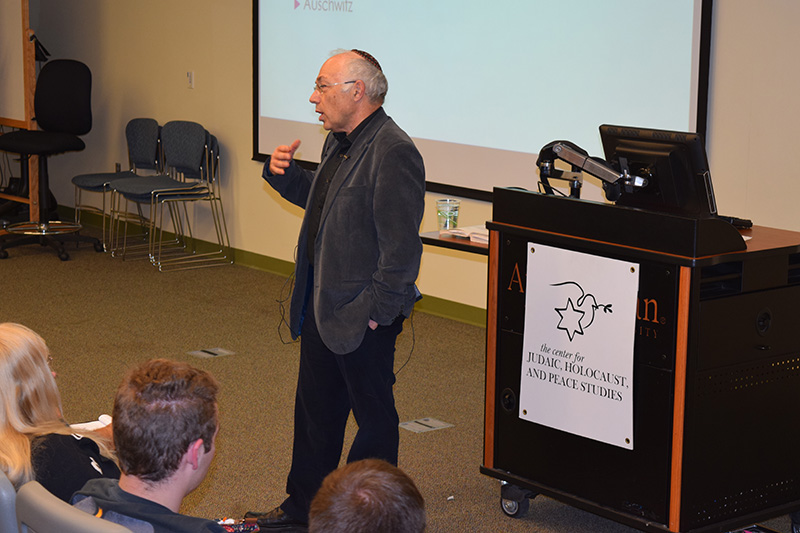 Full-length recordings of past events are available in our on-line holdings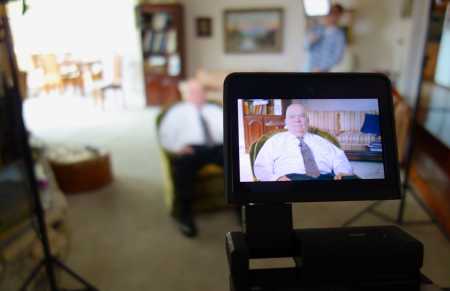 Full access for ASU students, faculty, staff, and community users registered with the library
Upcoming Events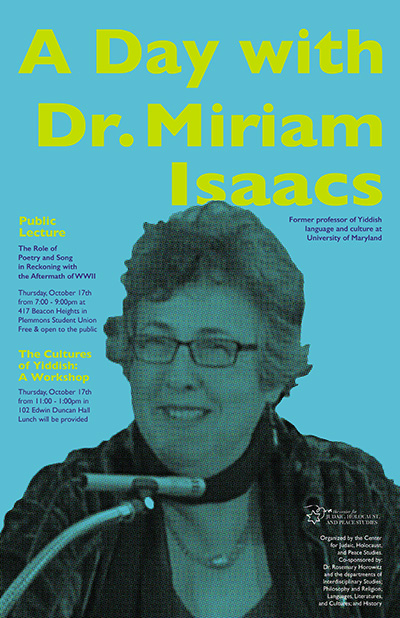 Yiddish Language Scholar Miriam Isaacs to Shed Light on Songs by Holocaust Survivors and Offer Yiddish Language Workshop

On October 17th, the Center for Judaic, Holocaust and Peace Studies proudly hosts Dr. Miriam Isaacs, an independent scholar in the fields of Yiddish language and culture, heritage languages, and translation. She will offer a "Cultures of Yiddish" workshop for Appalachian's faculty, staff, and students on Thursday, October 17th from 11am-1pm, and a public lecture the same day from 7pm-9pm. The workshop (with lunch provided) will be held in 102 Edwin Duncan Hall, while the public lecture will take place in 417 Beacon Heights in Plemmons Student Union. Dr. Isaacs, a retired Affiliate Visiting Associate Professor of Yiddish Language and Culture at the University of Maryland College Park, has done extensive work on the Yiddish song holdings from the DP Camps in the Benjamin Stonehill Oral History Collection and will focus on the results of her studies in a public evening lecture. Dr. Isaacs will also offer a Yiddish language workshop. For more information, please contact the Center at 828.262.2311 or holocaust@appstate.edu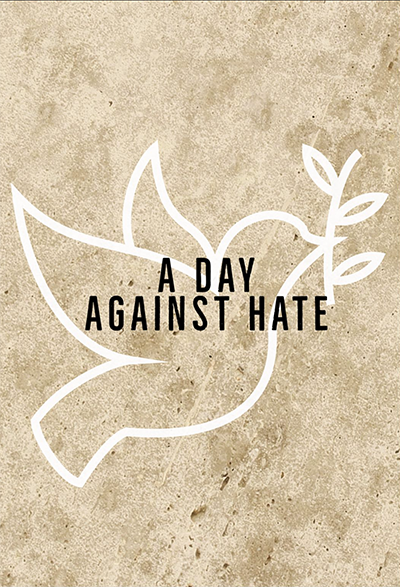 Alpha Epsilon Pi and Hillel Host 'A Day Against Hate'
On October 27th, Alpha Epsilon Pi and Hillel will be hosting 'A Day Against Hate' to bring the campus and the community together in a stance against hate. The event marks the anniversary of the shooting at the Tree of Life Synagogue in Pittsburgh.

This event is geared towards combating hate both on campus and within the community. The first portion of the event will be from 12-3 PM on Sanford Mall, while the second portion will be in the Solarium from 4-7 PM.

Student organizations are encouraged to come and set their tents / tables up on Sanford Mall from 12-3 PM.

This year, T.M. Garret and Hussein Aboubakr will be speaking on their experiences with hate during the second portion of the event. In addition, Dr. Sheri Everts (Chancellor) and Dr. Willie Fleming (Chief Diversity Officer) may be speaking during the first portion of the event.