Human Rights Film Festival Launched by ASU's Peace and Genocide Education Club (November 2021)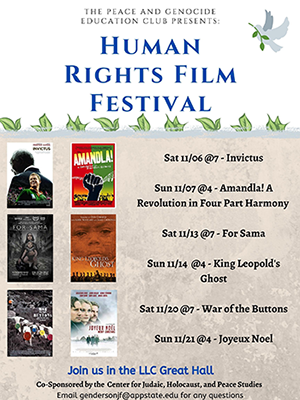 ASU's Peace and Genocide Education Club has organized a film festival to bring attention to human rights violations and genocidal crimes during the twentieth and twenty-first centuries. The screenings will take place in the Great Hall of LLC (Living Learning Center, 301 Bodenheimer Dr.) on the ASU Campus in Boone, NC, during the next three November weekends. Highlights include the screening of For Sama, an award-winning 2019 documentary about the life and struggles of Waad al-Kateab, a young woman and mother, during the recent uprising in Aleppo, Syria, at 7:00 pm on Saturday, Nov. 13. For the complete line-up, please see the included event poster. The screenings are open to everyone wishing to support the Club. To keep the ASU community safe, mask wearing is required.
ASU's Peace and Genocide Education Club (PGEC) was established in 2016 as part of a restructuring of the Center Fellows and continues to work closely with Appalachian State's Center for Judaic, Holocaust, and Peace Studies, which also co-sponsors the film festival. For more information about the festival, please contact the Club President Jake Genderson at gendersonjf@appstate.edu.