In Memory of Dr. Rosemary Horowitz z''l
With the greatest sorrow, the Center for Judaic, Holocaust and Peace Studies announces the passing of its former director Dr. Rosemary Horowitz z''l. A member of Appalachian State's faculty for more than a quarter century, Dr. Horowitz was highly-committed Holocaust educator and English professor – greatly admired by her students and colleagues alike – an accomplished scholar, patron of the arts, and a fierce opponent of antisemitism and any form of hostility against Israel. Dr. Horowitz dedicated her first major work, her 1995 study of Yisker Bikher, "to the six million"—a dedication that powerfully captured one of the central commitments of her life and career.
Dr. Horowitz was born to Holocaust survivors and spent the first decades of her life mainly in the Northeastern United States. She earned a BA in English and Education from Brooklyn College in the mid-1970s and subsequently worked as a writer, editor, and trainer and board member for several organizations. She returned to school and was bestowed a Doctor of Education degree from the University of Massachusetts-Amherst in 1995. Her remarkable thesis, which she wrote under the direction of renowned Teaching and Learning Professor David Bloome, examined the "Literacy and Cultural Transmission in the Reading, Writing, and Rewriting of Yisker Bikher." In the course of her career, Dr. Horowitz became one of the foremost experts on Yisker Bikher, speaking and publishing widely on the topic.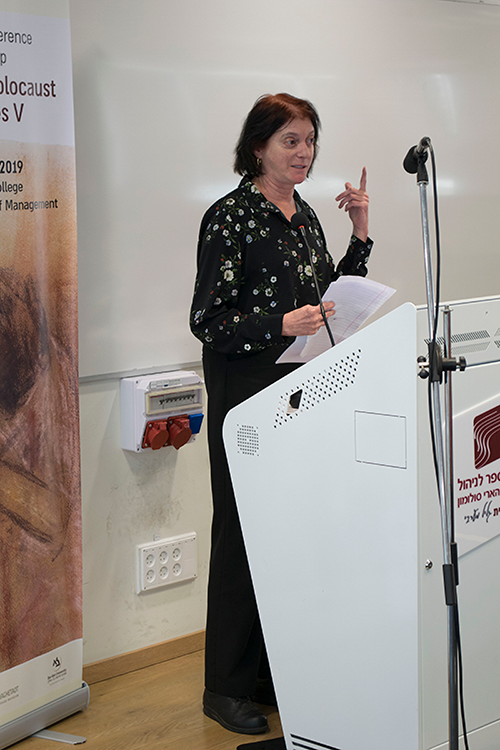 Dr. Horowitz joined the faculty at Appalachian State University in 1995. From the beginning, she engaged in and promoted Holocaust studies and education at her chosen academic home. In 1998, she was part of organizing one of Appalachian's most memorable convocations that featured Elie Wiesel, a prominent Nobel Peace Prize recipient, Humanities professor, and Holocaust survivor, as the main speaker. Since its inception in 2002, Dr. Horowitz had been active in Appalachian's Center for Judaic, Holocaust, and Peace Studies. In 2006, she became the Center's co-director, a position she held until 2013. Over the years, Dr. Horowitz made immeasurable contributions and helped build the Center. Her critically important work reached from grant writing—securing, among others, the support of the Conference on Jewish Material Claims Against Germany—to co-leading and expanding the acclaimed annual Martin and Doris Rosen Summer Symposium on Remembering the Holocaust to introducing and committing countless students, faculty, and community members to the work of the Center. In recognition of this work, she was named the interim Leon Levine Distinguished Professor of Judaic, Holocaust, and Peace Studies in 2012—the first scholar to hold the newly-established position. She helped to recruit both Dr. Simon Sibelman, who led the Center from 2013 until 2015 and Dr. Thomas Pegelow Kaplan, the current Center director. Her involvement never wavered. She served on every Center board and committee until shortly before her passing.
A devoted teacher, Dr. Horowitz was held in the highest esteem by her students at Appalachian State. In acknowledgment of her love and patronage of the arts, two former students recently named an innovative new art vending machine at Boone's popular Espresso News coffee shop "Rosemary." Over the years, she served as the academic advisor to several student groups, including AEPi, Appalachian's first Jewish fraternity. Asked to help, she never hesitated and raised, among others, thousands of dollars in grants for Appalachian's Hillel and AEPi chapters, including their "Two Days Against Hate" events in 2019 that countered the rising antisemitism and anti-Israel sentiments throughout the United States—two struggles Prof. Horowitz remained committed to throughout her life.
All the while, Dr. Horowitz's numerous contributions and activities were never limited to the Appalachian State campus. To name but a few, she worked with the United States Holocaust Memorial Museum in Washington, D.C., and was a long-time supporter of the YIVO Institute for Jewish Research in New York City. In 2015, she endowed The Horowitz Family Summer Internship at YIVO, which continues to enable young scholars to work at this leading academic center for East European and Russian Jewish Studies. For several years, Dr. Horowitz also served on the NC Council on the Holocaust in Raleigh, NC. She was one of the pillars of the Jewish Community in Boone, playing a key role on the board and in the Sisterhood of the local Temple of the High Country and working with the Havurah for many years.
All along, Dr. Horowitz remained a devoted researcher and scholar. In addition to her revised dissertation, she published the edited collection Elie Wiesel and the Art of Storytelling (McFarland Press, 2006), which explored Wiesel's roots in Jewish storytelling traditions along with the impact of religious, folk and secular sources, his Yiddish background and Holocaust experience. In 2011, she edited Memorial Books of Eastern European Jewry: Essays on the History and Meanings of Yizker Volumes (McFarland Press, 2011), returning to her key field of research, in which she continued to publish numerous important articles and chapters, including "Reading and Writing during the Holocaust as Described in Yisker Books" in Jonathan Rose's collection The Holocaust and the Book, which appeared in several languages. In 2015, Dr. Horowitz, who was also a long-time affiliated faculty member of Appalachian's Gender, Women's and Sexuality Studies Program, published what was to be her final edited collection entitled Women Writers of Yiddish Literature (McFarland Press), which Choice "highly recommended." Dr. Horowitz had just signed another book contract and was engaged in various projects, research and writing until the end, ranging from a study of Jewishness in the works of the French filmmaker Jean Pierre Melville to an analysis of gender in Uri Orlev's and Kathy Kacer's literature about the Holocaust for children, and an essay about incorporating yizker books in the classroom.
Dr. Horowitz was a regular speaker and contributor at the key scholarly conferences in the field from the annual meetings of the Association for Jewish Studies to the Holocaust Educational Foundation's Lessons and Legacies conferences. She also frequently traveled, worked and spoke abroad, especially in Israel, for instance at the Future of Holocaust Testimonies conferences in Akko. In 2019, she was part of the org committee of Future of Holocaust Testimonies V, which the Center under its current director co-organized.
Rennie Brantz, the mayor of Boone and her fellow former co-director at the Center, recalled how "instrumental Rosemary was. . . in the creation and development of Appalachian's Center for Judaic, Holocaust, and Peace Studies. Her scholarship, commitment, and academic leadership shaped the character and quality of the Center. She will always be an important part of our Center community." The words of Appalachian State Prof. emerita Zohara Boyd, a Holocaust child survivor and another influential former Center director who worked closely with her, offer a beautifully fitting summary, "Rosemary was a brilliant and dedicated scholar, wonderful friend, person of good humor, kindness, and no pretensions. Appalachian is poorer for her loss, and her friends are bereft." The sense of loss of course extends far, far beyond the NC mountains.
Dr. Horowitz died at her home in the High Country on Saturday, August 7, after a battle with cancer. She is survived by her partner Jerry Hyman and her sister Vicky. Funeral services will be held this Thursday, August 12, 2021 at 10:00 am, in Hampton Funeral Services Chapel in Boone, NC (683 Blowing Rock Rd, Phone: 828-264-7100). Interment will immediately follow the service at Mount Lawn Memorial Park and Gardens in Boone, NC (521 Old East King St., Phone: 828-264-3977). MASKS are required for entry into Hampton Funeral Services and at Mount Lawn. The decision to use Zoom for the service has not been made. If it becomes available, we will let you know. In lieu of flowers, the family asked to please plant a tree in Israel in her honor through the Jewish National Fund as she did for so many loved ones. The Center will share information about more arrangements