"Gather, Heal, Grow: Healing from Genocide Through Ancestral Cherokee Foodways" with Chef Nico Albert Williams
Thursday, November 17, 2022, at 7 p.m.
Room 114, Belk Library and Information Commons
Zoom link available upon registration here.
BOONE, N.C. — Join Cherokee Chef Nico Albert Williams of Burning Cedar Indigenous Foods for a discussion on how ancestral foods can create a pathway to healing generational trauma and health disparities caused by the colonization of the Indigenous people of North America. Learn how reestablishing a relationship with the natural world is a critical part of strengthening cultural connection and promoting physical and emotional health and wellness for Indigenous communities as a means to push back against the lingering effects of colonization and genocide.
This event is free and open to the public. For a disability accommodation, visit odr.appstate.edu.
---
About the Speaker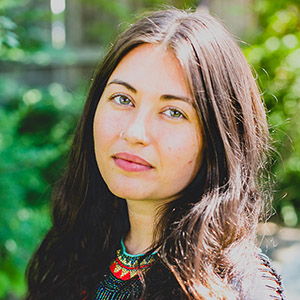 Nico Albert Williams (ᏣᎳᎩᎯ ᎠᏰᎵ Cherokee Nation of Oklahoma) is the Owner/Executive Chef of Burning Cedar Indigenous Foods. She spends her time cooking, eating, studying, writing, and speaking about traditional and modern Native cuisine. Nico is also the Founder/Board President of Burning Cedar Sovereign Wellness (www.burningcedar.org/sovereignwellness), a nonprofit and future urban Indigenous community space that addresses socioeconomic disparities, health crises, and cultural disconnection affecting Indigenous communities by re-establishing ancestral foodways including practicing traditional medicine, educating future generations of Indigenous cooks, supporting sustainable Indigenous food producers, and providing resources for Native people to improve their spiritual and physical health through ancestral ways of knowing. Nico shares a fireplace with her husband, Kyle Williams Sr (Ponca, Otoe-Missouria, Iowa), her stepdaughter, two mischievous little dogs, and two perfect rabbits. She and her family enjoy spending time together outdoors and dancing at powwows. She and Kyle also play music in heavy metal and doom bands.
Tags: