Recipients of the 2022 JHP Student Research Prize and Travel Research Grants for Israel Announced by the Center for Judaic, Holocaust, and Peace Studies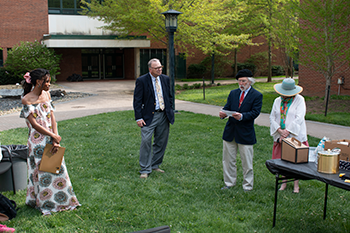 At the end of another challenging academic year marked by the ongoing pandemic and a devastating war in Europe, the Center for Judaic, Holocaust, and Peace Studies is pleased to present the recipients of its 2022 research prize and travel grants.
The winner of the Center's 2nd Annual Student Research Prize in Judaic, Holocaust, and Peace Studies is Taylor Alexis Young (Music Therapy) for her work entitled "TRIP-TICK: hymn / examen / fellowship." Taylor's piece, Prof. J. Bathanti (ENG/IDS), who nominated her, wrote, "constitutes wholly original thought and scholarship, and is thoroughly interdisciplinary, hybrid and intersectional. It's a brilliant conflation of blazing original poetry; equally blazing personal essay; critical acumen of 'music of the Black diaspora'. . . as well as critical exegesis on seminal Black women writers of the 20th and 21st century, especially strident Black feminist writers, like Alice Walker and Toni Morrison, though Taylor also invokes and evokes Audre Lorde, bell hooks, June Jordan and others. Taylor's discussion of the oppression of Black bodies and the systemic oppression of Black citizenry," Bathanti stressed, "is provocative and well-articulated. She reimagines language again and again. She's not afraid to take risks. Her candor is breathtaking."
While the prize committee was mesmerized by Taylor's work, its members were also pleased to award two Honorable Mentions this year to research with considerable strengths in its own right. The first Honorable Mention was awarded to Ben Huffstetler (HIS/JHP) for his research paper "Comparative Radio Propaganda: The Role of Radio During Genocide in Nazi Germany and Hutu Rwanda." In his nomination, Prof. T. Pegelow Kaplan (JHP/HIS) noted that "comparative histories of mass violence are -- by the early 2020s -- hardly rare academic undertakings. Yet, to carry them out with the needed methodological rigor and in an accessible and well-crafted prose is rare. History major and senior Ben Huffstetler's work on radio propaganda and its comparative reading of these phenomena enacted by the Nazi and Hutu Power regimes in the early 1940s and mid-1990s respectively accomplishes both." The committee also granted an Honorable Mention to Ella Fowler (ENG) for her research on "Children Caught in the Crossfire: Everyday Violence and the Relationship Between the Victim and the Victimizer in Deogratias: A Tale of Rwanda." The paper argues, Prof. B. Walzer (ENG), who nominated the recipient, emphasized, that Ella's examination of the Rwandan Genocide and the graphic novel Deogratias "depicts the dehumanization born out of structural, everyday violence and thus 'question[s] the assumed line between a victim and a victimizer' asking 'What do we do when horrific crimes are committed not by horrific people, but by those who have been stripped of their humanity as well?' Ella's contribution to the conversation on mass violence, graphic narrative, and everyday violence achieves a depth of criticality and literary reading exemplary for an undergraduate student research paper and demonstrates a grasp of the complex theories of violence without losing sight of the real world implications." Heartfelt congratulations to all of these exceptional students!
The Center also was proud to offer its second round of student research and travel grants for Appalachian State students seeking to do academic work in Israel. The five recipients are Armando Barradas Valencia (GLS/ECO), Danny Collins (REL/HIS/JHP), Kiana Linehan(GLS/LLC), Liam Lentz (ECO/GER/JHP), and Parker Duck (HIS/PHL). The recipients' proposed projects that ranged from renowned educational leader J. Korczak's role as a trained physician in the Warsaw ghetto to work of Jewish medical practices in the Vilna ghetto fascinated the committee. The students will be leaving for Israel in late May to continue their work on these projects and cooperate closely with the Center's partners in the Holocaust program at Western Galilee College, Akko, as well as at the International Institute for Holocaust Researchat Yad Vashem, Jerusalem.
Finally, the Center is thrilled that three of the students in the JHP minor who have been very active in Jewish and genocide studies respectively are about the graduate. Gabe Atkinson (HIS/JHP), Walker Dalton (GLS/JHP), and Jeremy Doblin (GJS/JHP) have done impressive work during their years at Appalachia. Everyone at the Center wishes them well and every success as they embark on their post-college lives, be it at as students in prestigious graduate school programs in Washington, DC, or in other activities elsewhere.