Running and Hiding from The Nazis—A Child Survivor's Miraculous Escape From The Holocaust: Miriam Klein Kassenoff in Conversation with Center Director Thomas Pegelow Kaplan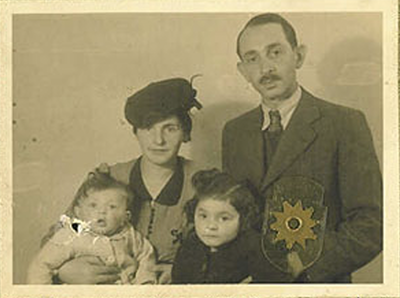 While this year's Rosen symposium on Children during the Holocaust has been postponed due to the ongoing COVID-19 crisis, the Center for Judaic, Holocaust, and Peace Studies offers a number of online programs that are free of charge and open to the public.
The Center invites the public to its first 2020-21 online program, a conversation between child survivor Dr. Miriam Klein Kassenoff (Florida) and Center Director Dr. Thomas Pegelow Kaplan. The program will start on Monday, July 27, at 7:00 pm on ZOOM. Klein Kassenoff was born in Košice, present-day Slovakia. After her father managed to escape from a concentration camp run by Hungary, a Nazi ally, she and her family -- her parents and her baby brother -- embarked on a dangerous seven-month long escape through seven European countries. In 1941, they managed to reach Lisbon and catch a ship to the U.S. Today, she serves as the Director of the Holocaust Teachers Institute at the University of Miami.
The Center has been blessed by a long affiliation with Dr. Klein Kassenoff, who helped start its Rosen summer symposium for teachers almost two decades ago. To get the link for the ZOOM meeting, instructions on how to install ZOOM on a computer or smart phone, and more information about the event, please contact the Center at 828.262.2311 or holocaust@appstate.edu.
The Center for Judaic, Holocaust, and Peace Studies Online