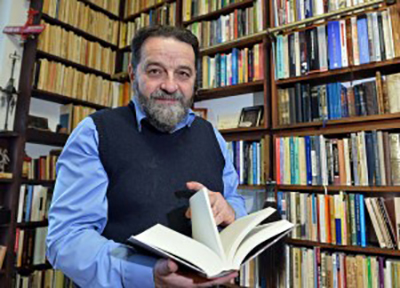 Center Lecture by Renowned Polish-Jewish Intellectual and Opposition Journalist Prof. Kostek Gebert (Warsaw, Poland) on the Shoah in German-Occupied Poland and Today's Polish Memory Politics
The Center for Judaic, Holocaust, and Peace Studies is exceedingly proud to invite the ASU and off-campus communities to a public online presentation by the prominent intellectual, opposition journalist, and voice of the Polish-Jewish community Prof. Kostek Gebert. He will be speaking to us from Poland's capital. Prof. Gebert's presentation is entitled "The Shoah and Polish-Jewish Relations: History and Politics of Memory in Present-Day Poland." The event will start on Thursday, September 10, at 11:00 am (also accounting for the time difference between the East Coast and Poland) on ZOOM.
Prof. Gebert is nothing short of a legend. He combines, as an Italian colleague pointed out, the "role of a public intellectual of the highest class" with numerous scholarly and non-scholarly undertakings, including that of one of the leading journalists in Poland and Europe. Prof. Gebert taught psychology at the Medical Academy, Warsaw, under Communist rule in the early 1970s, but soon came into conflict with the regime. He co-founded the famed (unofficial) Jewish Flying University, also in response to the growing anti-Semitism in Communist Poland. After writing for underground publications during the 1980s, he joined the newly-founded Gazeta Wyborcza, now the leading Polish daily, in 1989 and continues to contribute to many Polish and international media outlets, including the BBC. Gebert also established Midrasz magazine, which remains Poland's most influential Jewish publication. He is the author of sixteen books, including 54 Commentaries to the Torah (2005) and Living in the Land of Ashes (2008). He has taught at UC Berkeley, the Hebrew University in Jerusalem, and the Center for Social Studies in Warsaw. Finally, Gebert is involved in (re)building the Jewish community in Poland and has long become one of its most prominent voices.
Earlier this year, Prof. Gebert was named the first Senior Center Fellow, but prevented from coming to NC due to the current suspension of visa programs by the US State Department. The Center is honored to be able to welcome him to this ZOOM program.
This online lecture and discussion is free of charge and open to the public. To get the link for the ZOOM meeting, instructions on how to install ZOOM on a computer or smartphone, and more information about the event, please contact the Center at 828.262.2311 or holocaust@appstate.edu