Summer Symposium on the Holocaust features a Talk by Renowned Holocaust Scholar Prof. Deborah Dwork (NYU) on Jewish Children who escaped the Nazis on so-called Kindertransporte (Wed., July 21)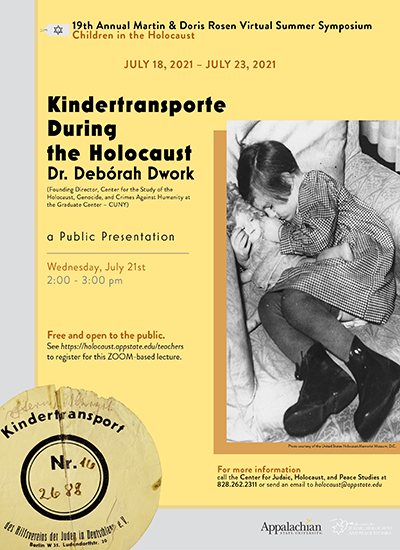 The Center for Judaic, Holocaust, and Peace Studies invites the public to an online lecture by Prof. Debórah Dwork (Graduate Center – City University of New York).
The Internationally renowned Holocaust scholar will speak on "Kindertransporte During the Holocaust," explaining how close to 10,000 mostly Jewish children from Germany, Austria, Czechoslovakia, and Poland managed to escape the Nazis and reach the UK from 1938 until 1940. Her lecture will take place on Wed., July 21, from 2:00 - 3:00 pm EST. The event is part of the 19th Annual Martin and Doris Rosen Summer Symposium organized and hosted by Appalachian State University's Center for Judaic, Holocaust, and Peace Studies.
The presentation is free and open to the public. To register for this lecture, please click here.

Debórah Dwork is the founding Director of the Center for the Study of the Holocaust, Genocide, and Crimes Against Humanity at the Graduate Center – City University of New York. Pathbreaking in her early oral recording of Holocaust survivors, Dwork weaves their narratives into the history she writes. Her award-winning books include Children With A Star; Flight from the Reich; Auschwitz; and Holocaust. Renowned for her scholarship on Holocaust history, she is also a leading authority on university education in this field: she changed the academic landscape, envisioning and actualizing the first doctoral program in Holocaust History and Genocide Studies. Recipient of the International Network of Genocide Scholars Lifetime Achievement Award (2020), Debórah Dwork has served as a Senior Scholar-in-Residence at the United States Holocaust Memorial Museum, and has been (inter alia) a Guggenheim Fellow, a Fellow at the Woodrow Wilson International Center for Scholars, and an ACLS Fellow. She currently serves on the U.S. delegation to the 34-member state International Holocaust Remembrance Alliance.
For more information about the talk or the symposium, please contact the Center at 828.262.2311 or holocaust@appstate.edu.