Appalachian State Hillel is a student-based organization that provides students with the opportunity to learn more about the Jewish faith and culture. While the Hillel membership is primarily comprised of Jewish students, we also welcome non-Jewish students to our organization. We socialize, celebrate Jewish holidays and culture, and act as the Jewish voice on our campus and in the community.
The Temple of the High Country and Hillel maintain close ties and Hillel also frequently works with ASU's Center for Judaic, Holocaust, and Peace Studies.
For more information about events or Hillel, see the club's webpage at hillel.appstate.edu or e-mail hillel.appstate@gmail.com.
Hillel's facebook page:
https://www.facebook.com/groups/2231251452/
2018-19 Hillel Board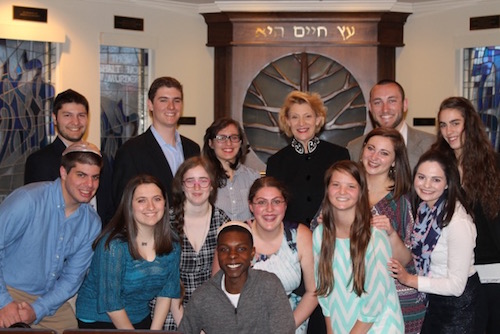 President: Aliyah Tuckman
Email: tuckmanas@appstate.edu
Vice President: Annette Waters
Email: watersar@appstate.edu

Secretary: Ryan Jesse
Email: jesserm@appstate.edu
Treasurer: Michael Joseph
Email: josephmb@appstate.edu
Marketing/Publicity Chair: Coralia Fangmeier
Email: fangmeiercm@appstate.edu
Religious/Cultural Chair: Jacob Barker
Email: barkerjb1@appstate.edu
Service & Philantrophy Chair: Aaron Carpenter
Email: carpenteraw@appstate.edu
Advisor: Skip Rackmill
Email: rackmillsj@appstate.edu
NC Hillel Advisor: Sarah Domont Cohen
Email: scdomont@nchillel.org
NC Hillel Director of Statewide Initiatives
Ginny Vellani