Undergraduate Minors
The Center for Judaic, Holocaust and Peace Studies supports on- and off-campus student research. Recent assistance ranges from financial support of research trips to archives in the U.S., Poland, and Germany to Center-supported student presentations at the Beth David SynagogueGreensboro, NC. Students who are working with the Center and/or have received support include: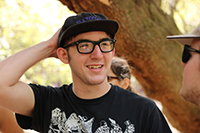 Elias Pentes is a Sophomore Technical Theatre major from Charlotte, North Carolina minoring in Judaic, Holocaust, and Peace Studies with a Holocaust concentration. The grandson of a Holocaust survivor and scholar, Elias hopes to continue his grandmother's legacy through research, collaboration, and a promise to never let the world forget.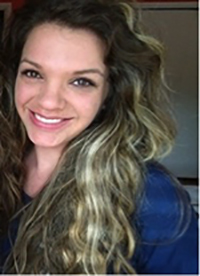 Annette Waters (S'20) is a senior History education major and minor in Judaic, Holocaust, and Peace Studies with a concentration on Holocaust Studies from Kings Mountain, NC. Asked about JHP at ASU, she writes, "The Center for [and minor in] Judaic, Holocaust and Peace Studies means so much to me because of the lasting effects in creates. Education, I feel, is the number one tool we can use against any force. The Center has provided fantastic lunch colloquiums to encourage conversation between students and esteemed scholars, incredible speakers who have become masters on subjects such as the Holocaust. . . and trips made available to students yearning to learn more of such important history. As the president of Hillel, an international organization for Jewish students on college campuses, it means so much to me that the Center here is so dedicated on providing resources for Holocaust remembrance.. . The Center has always dedicated an entire day to remembering those lost in the Holocaust by reading names or victims and leading a silent march down King St. on Yom HaShoah, Holocaust Remembrance Day. I cannot write enough of the opportunities and ample resources that . . . the Center for Judaic, Holocaust and Peace Studies has provided and the hard working it is carrying out to educate ASU students and numerous others on such important topics. It means so much to me."
Alumnae/-i News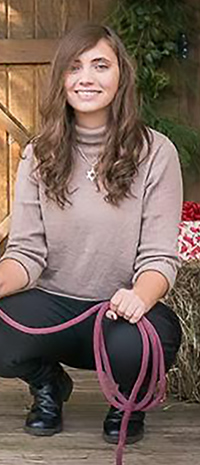 Megan Holtkamp ('18; MA Student in History, College of Charleston, SC)
Megan Holtkamp graduated with a minor in JHP from ASU in May 2018. She applied and got accepted into the MA Program in History at the College of Charleston, SC. She is currently working on her degree there in close association with CoC's Jewish Studies Center. After her time at the CoC, Megan has her eyes set on a PhD program and has the goal of teaching Holocaust and genocide studies at the college level one day.
As a recent graduate, she addressed supporters and donors of ASU's CJHPS at a luncheon in Blowing Rock: "The Center for Judaic, Holocaust, and Peace Studies has afforded me opportunities that have and will continue to advance my educational and career goals. Being able to complete the minor that the Center offers has helped me further my own knowledge in Holocaust studies which will aid me in my future goals of graduate school. Taking one of the courses offered as a part of the minor was actually my deciding factor in wanting to work in the field of genocide studies. I've attended several of the lunch colloquia that the Center has hosted that has given me the ability to learn from scholars in this field. Plus, getting to meet someone who works for Yad Vashem was one of the highlights of my last semester. Dr. Pegelow Kaplan has worked with me on my plans for graduate school, such as the possible programs and conferences that I could attend that would make me a better Holocaust scholar. Over the summer, I worked for the Center during the annual Holocaust Symposium, which was a great experience in something I would want to be a part of my own career. There has been so much that the Center for Judaic, Holocaust, and Peace Studies has done for students, including myself, in helping shape Holocaust and genocide scholars and preparing us for our future educations and careers.In the spring, I wrote an article for The Appalachian's Diversity Issue about my experiences on campus as an openly queer Jew having experienced instances of antisemitic racism. The Center for Judaic, Holocaust, and Peace Studies is one of the few areas on campus that I have seen address antisemitism and work to combat these occurrences. Whether this was intended as a function of the Center, it's something that I really value about the Center. Being marginalized has certainly shaped some of my experiences at ASU, but so has having a place that speaks out against these instances."
Brooke Laing ('16; Intern at Amnesty International, London, UK)
After graduating from ASU, Brooke Laing pursued a Masters in the Human Rights Program at the University College of London. She recently completed and program and is still in London, England, currently working as an intern at Amnesty International.
"My decision to pursue a career in Human Rights," Brooke recently stated, "is a direct result of my involvement with the Judaic, Holocaust, and Peace Studies Center. The center not only provided specialized expertise in Judaic, Holocaust, and Peace Studies, but also offered powerful lessons as to why these kinds of atrocities occur, placed particular emphasis on the importance of prevention, and celebrated the cultures and lives of the persecuted, rather than teaching about them as statistics. These lessons deeply affected me. I started in the center. . . as a Jewish history student interested in Holocaust studies. By the end of my four years at Appalachian State, the experiences and lessons my exceptional professors and the Center provided helped to reshape my worldview. Through Holocaust Studies, the Center taught me how to be an advocate for human rights and the prevention of atrocities today."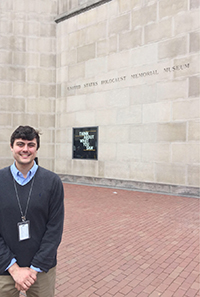 Trey Vickers ('15; Donor Relations and Special Events, United States Holocaust Memorial Museum)
After graduating from ASU with a JHP minor, Trey was awarded a scholarship for the one year Masters in History program at Brandeis University. His master's thesis examined Henry Ford's The International Jew: The World's Foremost Problem and its subsequent use among hate groups in the United States. Following graduation from Brandeis in May of 2016, he traveled to Poland on a graduate fellowship with the Auschwitz Jewish Center examining the legacy of the Holocaust within post-Communist Kraków, Łódź, Warsaw, and Oświęcim. Upon his return from Poland, he accepted a newly created position with the USHMM working in donor relations and special events, a position that he still holds. His work takes him across the country, meeting with donors and working to spread awareness for the museum.
"I know without a doubt that my academic and professional accomplishments have been shaped by my experiences with both the undergraduate history program at Appalachian and my involvement with the Center for Judaic, Holocaust and Peace Studies. My experiences as a history major with minors in JHPS and Political Science, a member of the Heltzer Honors College, founding the Center Fellows student organization, and working with the annual Martin and Doris Rosen Summer Symposium nurtured and challenged me to pursue my studies at a higher level, preparing me for the rigors of graduate school," Trey recently stated. "It is not an exaggeration to say that my professional and personal accomplishments would not have been possible without my involvement with the Center for Judaic, Holocaust and Peace Studies."