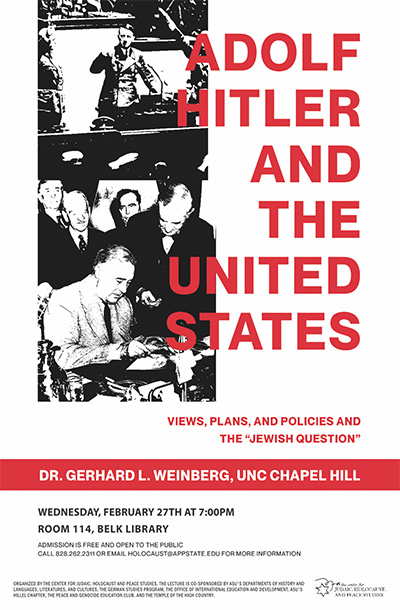 Prominent Military Historian and German-Jewish Refugee Gerhard Weinberg to Speak at ASU (Rescheduled Event from September)
On Wednesday, February 27, the Appalachian State University and broader communities are invited to a public lecture by Dr. Gerhard L. Weinberg, the William Rand Kenan, Jr., Emeritus Professor of History at the University of North Carolina at Chapel Hill. His lecture is entitled "Adolf Hitler and the United States: Views, Plans, and Policies and the 'Jewish Question'" and will start at 7:00 pm in Belk Library and Information Commons, Room 114. The event is free of charge and no tickets are required (The lecture was originally scheduled for September 2018, but had to be canceled due to the incoming hurricane).
Professor Weinberg is an internationally acclaimed military, diplomatic and Holocaust historian. Among his many influential books and articles, A World at Arms: A Global History of World War II, revised ed. (Cambridge: Cambridge University Press, 2005) and Hitler's Foreign Policy, 1933-1939: The Road to World War II (New York: Enigma Books, 2010)—combining two of his earlier studies—clearly stand out. Weinberg also found the book manuscript written by Nazi leader Adolf Hitler after Mein Kampf in the massive files confiscated by U.S. troops at the end of the war in Europe. A critical English-language edition was, finally, published as Hitler's Second Book: The Unpublished Sequel to Mein Kampf (New York: Enigma Books, 2003). Weinberg's many awards include the Samuel Eliot Morison Prize, the Society for Military History's lifetime achievement award, a John Simon Guggenheim Memorial Foundation fellowship, and the Pritzker Military Library Literature Award for lifetime excellence in military writing. He served a president of the German Studies Association and taught at the University of Bonn, Germany, as a Fulbright professor. He will also serve as the keynote speaker of the Future of Holocaust Testimonies conference co-organized by ASU's Center for Judaic, Holocaust and Peace Studies in Akko, Israel, in March 2019.
Born in Hanover, Germany, during the waning years of the Weimar Republic, Weinberg escaped Nazi Germany on a Kindertransport to England in 1938. His father, a judge whom the new Nazi rulers removed from his position after their "seizure of power" due to his Jewishness, narrowly escaped imprisonment in a concentration camp. After the family managed to reunite in England, they succeeded in obtaining visas and coming to the United States. Weinberg served in the U.S. army in 1946-47 and then worked as a research analyst in the war documentation project in Alexandria, VA. He started his remarkable academic career at the University of Chicago in the mid-1950s.
On Thursday, February 28, there is also a lunch research colloquium with our guest at the Center. It is open to ASU faculty, students and staff.
For more information, contact the Center for Judaic, Holocaust and Peace Studies at holocaust@appstate.edu or call 828.262.2311. Organized by the Center and Dr. Judkin Browning, Professor of Military History at ASU, the visit is co-sponsored by ASU's Departments of History and Languages, Literatures, and Cultures, the German Studies Program, ASU's Office of Multicultural Student Development, the local chapter of Hillel, the Peace and Genocide Education Club, and the Temple of the High Country.